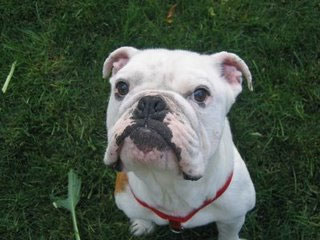 Tank is only two years old and according to the person who surrendered him, he hasn't been able to hold food down SINCE APRIL 2007. When he came into rescue, Tank weighed about 33 pounds, and he should probably weigh 60-70 pounds. This little guy is so sweet and loving. I hope and pray we can help him - he is breaking our hearts. We started out feeding him baby food just to try to get something in his system but he started vomiting that, too. He was active and alert - I just don't understand how he had any energy because he is literally starving to death. He has a lot of HEART.

His intestines felt very thick to the vet, like garden hoses, and he said they should be very soft instead. So we started by treating him for bowel disorder, and by trying to build up his strength, by giving him prednisone to take down the inflammation, a slurry and pepcid to coat his stomach, and a mostly liquid diet. We started out using Ensure and baby food, and then added Carnivore Care, a powder that you make into a kind of mush. The vet didn't want to risk the anesthesia to do an endoscopy - he said too often it's not really conclusive anyway. AND we would have to build him up with plasma, first. So even if we do need to do a scope eventually, this was a good first step. Tank's coat looks good, his eyes are clear, he is energetic and alert, bless his little (BIG) heart. We got his intestines less inflamed, so he would be able to keep most of the food down, but then he developed aspiration pneumonia from vomiting.

The pneumonia left Tank exhausted and depressed - he was admitted to the hospital and stayed there for 6 days. His pneumonia worsened, and finally, thanks to lots of intravenous antibiotics, he started to improve. He had several chest x-rays to determine the extent of the pneumonia and then had an ultrasound for his stomach/esophageal issue. The ultrasound was inconclusive. He needs a fluoroscopy at the University of Pennsylvania, which is like a moving x-ray and will allow the doctors to see what happens to his food when he's eating. They strongly suspect a sliding hiatal hernia.

We brought Tank home so the pneumonia could continue to clear up, and now he started vomiting again. We're giving him his meds sub-Q at home now, and praying a lot. He is up to 37 pounds, so that's one small but significant improvement.